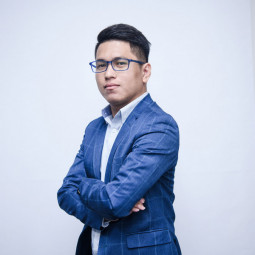 Founder | Creative Director | Branding Specialist | Digital Marketing
KD Creativz
Filipino
Work Experience
Founder | Creative Director | Branding Specialist | Digital Marketing
KD Creativz - Phnom Penh
March 2008 to Present
Education
Associate's Degree in Computer-Aided Architectural & Graphic Design
Skill
Creative Branding (8 years)
,
Digital Marketing (4 years)
,
Web & UI Design (6 years)
,
Advertising & Marketing (6 years)
,
Design Management (6 years)
,
Architectural Structure (4 years)
,
Corporate Details & Guidelines (8 years)
,
Animation (2 years)
,
Packaging & Labelling Design (8 years)
,
Internal Stationaries & Papers Template (8 years)
,
Social & Mobile Apps Icon (6 years)
About Me
Highly experienced on Digital Marketing, Art Direction & Branding, with a demonstrated history of working in the global brand of Automotives, Oil & Gas, Food Industries and other Consumer products. Well-skilled in branding, typography, art direction, banner & brochures, stationaries, presentation, architecture, mobile apps and web development — advertising and marketing. Strong arts and design professional with a Associate's degree focused in Graphics and Architectural Design.
Additionally, a highly skilled design & imaginativeness professional with over 10 years experience - responsible and versatile person, pursuing creative design related roles for which will employ the technical and problem-solving skills developed through study and experience. The ability to self-motivate allows to perform various tasks at once showing to be fully committed, organized and competent in working under pressured situations. Efficient in assuming responsible tasks whilst also strive in following latest world trends.