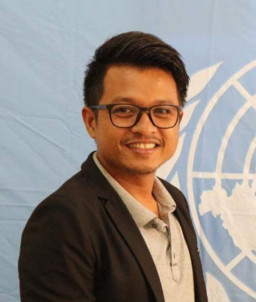 Senior Administration Assistant
United Nations Assistance to the Khmer Rouge Trials (UNAKRT)
Cambodian
Work Experience
Senior Administration Assistant
United Nations Assistance to the Khmer Rouge Trials (UNAKRT) - Phnom Penh
March 2011 to Present
Administrative Officer
World Vision Cambodia - Phnom Penh
July 2005 to March 2011
Executive Secretary to the Country Manager
World Vision Cambodia - Phnom Penh
September 2004 to July 2005
Education
MA in Business Administration
Skill
Administrative, Logistic, Procurement and Hospitality (10+ years)
About Me
I graduated both bachelor and master degree major in Business Administration, which will allow me to utilize my skills and knowledge rightly, especially in project management, research methodology and English comprehension. In addition, most of the training that I had gone through so far is also respond to the requirements such as Conflict Resolution – Collaborative Negotiation, Contracts, Procurement and Negotiation Skills, Essential Facilitation Skill and an Advance English will be another. Through this, I will be able to produce the standardized report in English and Khmer and help providing the information and constructive feedback toward peers and partners in order to ensure the set project actions planned accomplished as scheduled.
As a professional staff member, I had been involved in many types of positions such as an Assistant for Staff Capacity Building, Executive Secretary to the Country Director, an Administrative Officer, which was a position that I had been working in for more than 6 years continuously with an international NGO and a current position as a Senior Administrative Assistant with one UN Agencies. Through these jobs, I have well equipped myself with various experiences such as procurement management, assets management, store and supply management, event arrangement; fleet and travel management, project and budget management as well as developing related administrative operating standard. Apart from my main responsibilities, I was actively participating in conducting project evaluation, new project assessment, designed and redesigned.
Lastly, my personality is also a part of my strength that consider as one of the key factors, which would help me accomplishing my job on time and effectively. I am a high committed person and keen to learn new things. In addition, I am also a fast learner especially to the new job and able to adopt it easily to the new working environment, for I experienced in working with many type of persons both local and expatriates. I am also regarded as a confident staff member in every task assigned to me as I am able to stand on my abilities in producing a quality of tasks that I am assigned for. I am an initiator who is able to produce the suitable tool in help me and the team to accomplish our set goal successfully. For instance, I produced a budget monitoring and supplies management system that helping us in effectively managing our daily tasks, with this personalities, I do believe that I would be able to execute the role as a Project Assistant more efficiency and effectively.
Should need further information related to myself, please do let me know and I am looking forward to hearing from you.
Sincerely yours,