Job ID: 36037 Views: 4373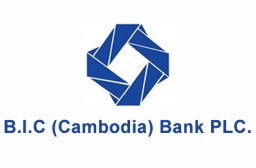 Accounting Manager, Bank Operations Manager, Internal Auditor, IT Officer, IT Manager, Compliance and Risk Officer, Credit Officer, Driver
B.I.C (Cambodia) Bank PLC. is currently looking for candidates to join the Bank which is scheduled to commence operations in early 2018. The Head Office and Main Branch is located at No 462, St 93, Sangkat Tonle Bassak, Khan Chomkarmon Phnom Penh, Cambodia. B.I.C (Cambodia) Bank PLC. is a sister bank of International Commercial Bank Lao Limited which has been in operations since 2008 in Lao PDR.
The combined international and local in-depth banking knowledge, skills and assets allows B.I.C (Cambodia) Bank PLC. the advantage of positioning itself as a bank that understands the local financial market needs.

01 - Accounting Manager
Requirement

Bachelor's degree in Accounting/Finance or Banking Management.
Minimum working experience 5 years in related fields is required for this position.
Proficient in English verbal and written communication.
Proficient in MS Words, Excel, PowerPoint, Internet and Email.
Honest and excellent character with high commitment to work.
Good reporting skill.
Ability to solve and facilitate the problems taken place in working process.
Good interpersonal skill and team work.

02 - Bank Operations Manager
Requirement

A degree in banking or other related field
Minimum working experience 5 years in frontline and back office banking operation is required for this position.
Good sense of responsibility
Ability to provide leadership, direction and coordination of the goals and objectives of the operations division.
Ability to maintain focus and multitask
Good judgment to make financial decisions

03 - Internal Auditor
Requirements

Proven working experience as Internal Auditor or Senior Auditor
Advanced computer skills on MS Office, accounting software and databases
Ability to manipulate large amounts of data and to compile detailed reports
Proven knowledge of auditing standards and procedures, laws, rules and regulations
High attention to detail and excellent analytical skills
Sound independent judgment
BS degree in Accounting or Finance

04 - IT Officer, Business Analyst and Application
Requirement
Bachelor's Degree in Information Technology (IT) or equivalent in related field.
Minimum 2 year relevant working experience with commercial bank/MFI.
Proficient in English, both writing and speaking.
Knowledge of the underlying operation banking system.
Knowledge of SQL, PL/SQL and Programming Language
Experience in SQL Server, Oracle and demonstrated Oracle Application.
05 - IT Manager, Security and Governance
Requirement
Bachelor's degree in Computer Science or a related field, and 2+ years of progressively responsible experience in the information security field.
Demonstrated understanding of ISO/IEC 27002 standards and practices.
In-depth technical knowledge in Linux and window operating systems, network security, authentication, security protocols and programming language in SQL command, Python, C# and Java.
Minimum of one year of experience in the following areas: Security event log management , network tools and technical knowledge with experience in using Kali Linux, UNIX platform

06 - Compliance and Risk Officer
Requirement
Degree in Law or other relevant degree.
Minimum 5 years working experience in compliance or related field in banking or financial industry and at least 2 years' experience in managerial role.
Excellent interpersonal skill to interact effectively with all levels within the organization.
Good command of English and Khmer, for both writing and speaking good presentation skill.
Attention to detail/accuracy.
Honest, integrity and professional.

07 - Credit Officer
Evaluate, authorize, or recommend approval of commercial, real estate, or credit loans. Advise borrowers on financial status and methods of payments Includes mortgage loan officers and agents, collection analysts, loan servicing officers, and loan underwriters.
Requirements
Degree in business, finance or related field.
Three to five years or more of experience in loan department or similar financial position.
Excellent financial analytical skills with sound judgment and decision making abilities.
Working knowledge of Microsoft office applications.
Extensive knowledge of financial institution credit/loan policies and procedures.
Ability to work independently and in a team environment, with limited supervision, and be a self-starter.
Must possess excellent organizational skills.
Ability to react to stressful situations with professionalism while remaining calm.
Must be tolerant of all personality types of clients, customers, employees, vendors and others.

08 - Driver
Requirements:
Held a full, clean driving license for a minimum of two years with experience of driving medium size saloon vehicles. (Any vehicle accidents within the last two years to be declared).
Able to work on own initiative.
Be able to work positively.
Flexible approach to working hours.
Good working knowledge of Phnom Penh surrounding area.
Able to speak English or Chinese languages.
Must be of smart appearance, pleasant and approachable manner.

How to Apply
Interested candidates is welcomed to send your last updated resume, a copy of Cambodian ID card and a recent passport size photograph to the following:
B.I.C (Cambodia) Bank Plc
C/o Areyeak Thun Apartment
Room 501
#232, St 99, Sangkat Tonle Bassak, Khan Chomkarmon Phnom Penh, Cambodia
Or email us at: [email protected]
Closing Date: 25th January 2018
Contact Person: Ms. Lou Kim Houy
Mobile: 017 32 22 17 ; 098 526 546
(All applications will be treated in strict confidentiality)
---
Posting Date: 18 Dec, 2017
Closing Date: 17 Jan, 2018
Job Type: Full-Time,
Industry: Banking and Finance
Job category:
Accounting, Audit, Finance
,
Administration
,
Banking, Financial Service
,
Drivers, Couriers
,
IT - Hardware/maintenance
,
IT - Software/maintenance
,
Ad Type:





Top